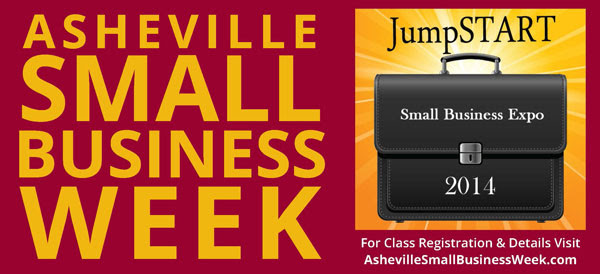 Want to learn the basics of starting or running a company… for free AND in Asheville?!
The small business center on the AB Tech Enka/Candler campus is offering a free expo and seminar week: Asheville Small Business Week, which runs April 21-25,  which is an amazing opportunity to meet with others in the business world to connect, learn, and engage. Boomer will be teaching one of the seminars and will have a booth set up at the Jump Start Expo on April 24.
What do these seminars provide?–>
Gain an understanding of SBC services and the business incubation process.
Start and develop a better business by evaluating feasibility, entity formation & financing.
Become an "encore entrepreneur" and start an income generating business in later years.
Discover the business implications and real-life applications of using 3-D printing.
Meet and learn from other business owners and entrepreneurs in the community.
Learn about alternative financing options for all types of small businesses.
Learn how to use online video to effectively promote a business.
Connect with area B2B vendors offering direct assistance for all phases of the business development process.
Boomer will be teaching his seminar:
Wednesday, April 23, 3:00 p.m. – 6:00 p.m.
Using Analytics to Develop Your Business Platform
How many people visited your website this week? What parts of the world are they visiting from? How long did they stay? What page keeps people's attention the longest? Google Analytics offers the free tool to track and improve business. We will start with setting up an account followed by adding the tracking code to the website. The majority of the class will cover navigating and understanding the basic reports. The main focus of
this class will be an introduction to the short and long term benefits of utilizing Google Analytics to help grow website traffic. Mobile activity, social media, and live tracking will also be discussed.
Location: A-B Tech SBC, Enka Site, Room 2046
Facilitator: Boomer Sassmann
Cost: Free!
Space is limited but still available.

Small Business Week
April 21-25
SBC at AB Tech Enka/Candler campus
1465 Sand Hill Road
Candler, NC 28715
Jump Start Expo
Thursday, April 24, 2014
4-6:30 pm at the BASE
FREE!
Visit for more info here: http://www.abtech.edu/content/Business-Development/Small-Business-Center/JumpStart-Small-Business-Expo
Download the flyer here.