At Big Boom Design we don't just want to be your web designers. We want to bridge the gaps in your understanding of what the World Wide Web can do to innovate, inspire, and improve the way you do business. We understand that the Internet is a complex and vast system that changes frequently.
Even those who use it every day have a hard time keeping up with the million-mile-a-minute pace of what's online. The truth is, though, that while the Internet is growing more complex, it's also providing resources to make your life easier, and we want to educate you on how to use these tools. Dropbox, Evernote, Mint, Facebook, Twitter, Hootsuite, Google… these aren't just for the 20-somethings of today who can't detach their iPads from their fingers long enough to hold an actual conversation.
We provide a series of classes to show you how these free tools can streamline your business and alleviate day-to-day stress. To find out more about our monthly class, call (828) 774-5607 or contact us through one of our many methods on the contact page.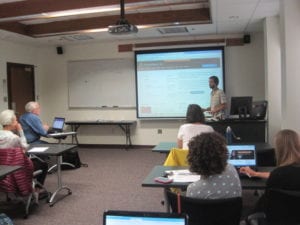 "This class was cutting edge excellent. I feel like I can go out and apply this knowledge immediately and start improving my site. This class unlocked a ton of mysteries. The class went at a good pace and provided a good amount of information. I highly recommend taking it. I would like to see this offered with eight half day classes instead of all four full days. It would be beneficial to offer an advanced WordPress class."
"Thank you! Your class was informative, inspiring, well organized, and well done! Your energy and passion for what you do shined through and has reignited my inner passion for owning my own business. What that business will be has yet to be determined, but my "I can do this!" attitude has been brought back to life! Thank you! Thank you! Thank you! (I feel like that was a lot of exclamation marks…more than needed, but very necessary!)"
Request A Class
If you are interested in requesting a class at your location, please click on the button to let us know.
Request A Class