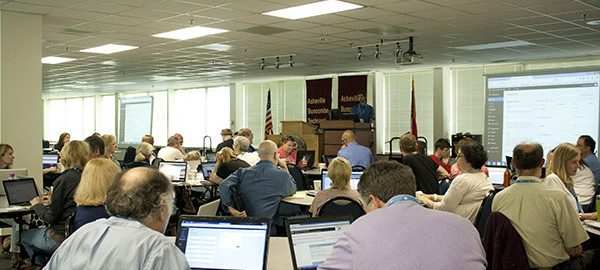 PreCamp: Beginner's Day — Friday, July 24 2015 @ 8:30am-3pm
PreCamp is a hands-on session for those new to WordPress. Unlike WordCamp (Sat & Sun), which focuses on presentations by various speakers, PreCamp (Fri) is a do-it-yourself day.
Are you new to WordPress (or know someone who is) and want some hands-on support in setting up your website? PreCamp is designed to take you from a blank slate to a fully functioning website before you walk out the door. We provide almost everything* you need to get started – including three months of hosting for your site thanks to the generous sponsorship of SiteGround.
If you're a beginner who is wondering if this is the right place for you – the answer is YES! We have an amazing team of experienced WordPress users, designers and developers that have donated their time to make this an incredible learning experience for you that will definitely bring results. You'll be guided through the steps needed to get your first website up and running. And we have enough facilitators to step in and provide some individual support if you get confused along the way.
Registration, Internet Connections, and Access to Webhosting is from 8:30am-9am. Website Creation is from 9:00am-3pm (lunch provided).
Tickets are an amazingly low price of $60 and includes access to all WordCamp sessions on Saturday and Sunday. To view more about this event, click here.